Guide to Inbound Marketing for Faster Company Growth
Reading time: 13 minutes
---
What Is Inbound Marketing?
Inbound marketing is a methodology by which we turn strangers into customers and customers into promoters. We do this by creating high-quality content tailored to the needs of our target audiences, and by using tools like HubSpot that help us deliver the content to the right people at the right time. It is crucial that we put ourselves in the shoes of our target audiences, create personas (representations of our ideal customers) and think about the problems and challenges we can help them solve at every stage of their buyer's journey. Customers don't want intrusive sales, they want content that helps them work and live better.
Inbound marketing is a method that allows us to build good relationships with (potential) buyers, the kind of relationships they will remember. We can do this by using various channels through which we attract visitors to our website and offer them content that we believe they are truly interested in. Someone who may not yet know our company but is looking for information about the kinds of products and services that we offer may need different content than someone who is already ready to buy and is looking for information about our products or services.
Our target audiences find our content interesting because it educates and helps them, and at the same time the content helps our sales team turn leads into customers. We also want our content to inspire our existing customers so that they themselves attract more customers.
Inbound marketing yields 3 times more leads than traditional marketing methods.
HubSpot
The 5 Pillars of Inbound Marketing
The basics of inbound marketing are:
Contacts: It's important to have a high-quality contact base with a lot of data, that helps us to make decisions. We have to segment the contacts and offer them targeted content that they find interesting and helpful.
Personas: Representations of our ideal customers based on research, internal analysis, and experience with existing customers.
The buyer's journey: Personas can be in the awareness, consideration, or decision stage. Knowing the stages of each persona is key to creating excellent content.
Content: Articles, blog posts, video content, photos, infographics, e-books, podcasts, social media posts, newsletters, etc. They need to be put into context – who we are targeting and what kind of content they are interested in at a particular stage of their buyer's journey.
Goals: How does marketing support company growth? Determining the goals of marketing also helps to improve collaboration between the marketing, sales and customer service teams.
Inbound Marketing Tools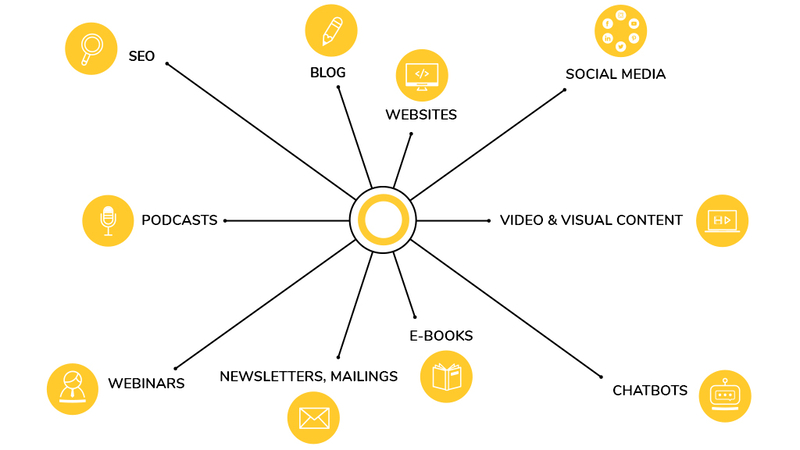 The main goal of the inbound methodology is to create high quality content tailored to your target audiences. Using various tools, you can publish your content on different platforms and attract people who resemble your personas.
Some of the most important inbound marketing tools are:
Website and pillar pages (longer pieces of content that cover all aspects of a particular topic that is relevant to your persona). Pillar pages are very important for the optimisation strategy of your website.
Blog posts explain a specific segment of your pillar page in more detail. Your blog content can address your personas' needs at all stages of the buyer's journey. To make the blog content even better and more interesting, you can invite guest bloggers who are experts in your field.
Video content. Like other types of visual content, such as infographics, you can share video content on social media organically or use it in paid social media advertising.
Webinars and e-books not only help you educate your personas, but more importantly, they are great tools for generating leads that you can continue to engage and nurture, and thus ensure that they will one day become your customers.
A conversational bot or chatbot is your "extra coworker" who helps your website visitors with frequently asked questions, thus giving your other employees time for other tasks.
SEO (search engine optimization), including pillar pages and other content, will help you increase your chances for ranking higher in search engine results.
Inbound Methodology
Several years ago, the founders of HubSpot and authors of the term "inbound marketing" introduced the flywheel model, which represents the inbound marketing, sales, and customer service methodology.
Stage 1: Attract
In the first stage of the inbound methodology, you need to attract visitors to your website.
Start by creating content that addresses the everyday challenges and problems of your personas. These are your potential customers: people who could use your products or services. Write blog posts, create videos, podcasts, webinars, publish interesting social media posts, send quality newsletters. HubSpot and similar platforms allow you to publish all content in one place and measure the impact of each activity.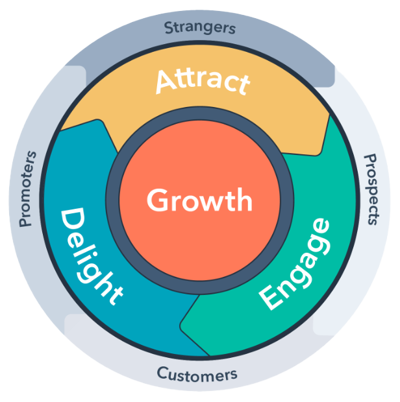 Stage 2: Engage
In the engage stage you are still communicating with potential customers. Give them the opportunity to find answers to their questions as quickly and easily as possible. Perhaps your advice will be the one to help them solve one of their pain points. The more challenges you solve and the more relationships you build, the more customers you will win. Well-designed chatbots can be a great help at this stage.
Stage 3: Delight
The third stage of the inbound methodology is about delighting your customers. They must look forward to working with you and be satisfied with buying your products. The key to achieving this goal is good customer service – your employees must become consultants and experts that your customers turn to when they need help or advice. Good relationships turn strangers into customers and customers into promoters.
How to Get Started with Inbound Marketing?

Inbound marketing is long-distance running, is an ultra-marathon. The results will not be seen overnight, the annual KPIs will not be achieved with a single campaign. In addition to good tools, you need a strategy, a plan that guides you every step of the way. When designing an inbound marketing strategy, we usually conduct a few workshops with members from different departments like marketing, sales, customer service and development, and also the management.
Key points that must be determined in an inbound marketing strategy:
Personas: Consider who your personas or your ideal customers are, what their pain points are, what challenges they are facing and how your product or service could help them.
Buyer's journey: The process by which buyers discover a new product or service, start thinking about it, evaluate it and finally make a purchase decision. Your content must address the buyer's needs at all stages of the buyer's journey. In the awareness stage, when the buyer realises he or she has a problem, in the consideration stage when the buyer recognises the problem and starts looking for solutions, and in the decision stage, when the buyer decides on a solution – your solution.
SMART goal - example
By the end of the second quarter (Q2), the marketing team will deploy two webinar campaigns to increase the number of leads in CRM by 20%, from 1,000 to 1,2000 leads.

SMART goals: Once you know who your persona is and what their buyer's journey is like, you set the so-called SMART goals. Smart goals are specific, measurable, attainable, relevant and time-bound.
Team: Inbound marketing requires many very different skills, which is why companies often work with external specialists and agencies. Sometimes (but rarely) they hire a so-called unicorn, a person who covers a range of different activities. In the strategy, you must define who covers which areas.
Points of contact or touchpoints: Identify organic and paid touch points where your personas can meet you. The most important touch point is undoubtedly your website, but of course people can also get in touch with you through social networks, online or live events, magazines, web portals, podcasts and so on.
Tools: It makes no sense to do inbound marketing if you don't measure your results. At Actuado we use HubSpot for landing pages and forms, email marketing, marketing automation, blog posts, social media posts, CRM and analytics. However, companies typically use a martech stack – a set of integrated tools where HubSpot can act as a central tool or hub. One of the main advantages of HubSpot is its ecosystem, which now includes more than 450 integrations.
HubSpot and Other Tools to Help Your B2B Business Grow Faster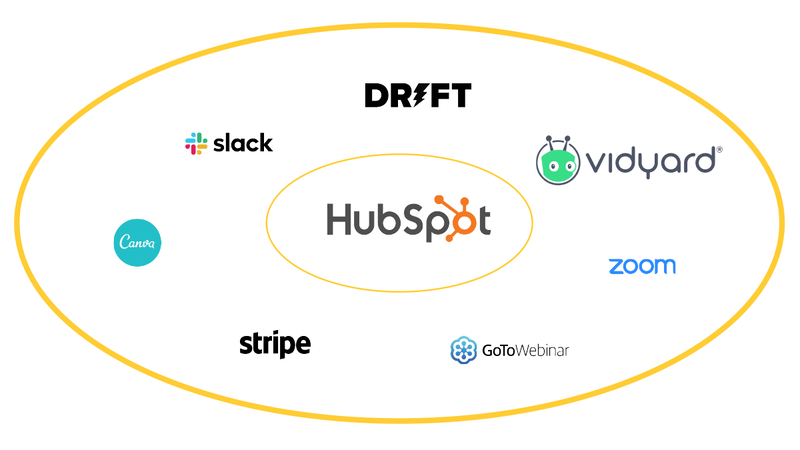 In 2016 Actuado became a HubSpot partner, and today we are the only HubSpot Platinum Solutions Partner agency in the region. We help our clients with setting up and using HubSpot, and our extensive experience in using HubSpot – especially in the B2B context – enables us to help our clients optimise their work and create the conditions for better growth.
Our clients, most of whom are B2B companies, most often use the following set of marketing technologies (martech stack):
HubSpot
HubSpot is a central tool for aligning sales, marketing and customer service. It offers everything from CRM and tools for ABM (account based marketing) to setting up landing pages, pop-up forms and CTA buttons, creating and publishing blog posts, sending automated email campaigns to segmented contact lists, setting up a knowledge base, creating dashboards for reporting, etc. HubSpot also offers numerous integrations with other tools – with just a few clicks (or using platforms such as PieSync and Zapier) you can connect more than 450 different applications, including all the apps listed below.

HubSpot offers several packages: HubSpot Marketing Hub, HubSpot Sales Hub, HubSpot Service Hub, and as of April 2020, HubSpot CMS Hub. The latter allows you to easily create and edit your website, even when your programmers are busy.
Drift
Drift offers one of the most advanced tools for chatbots. With a good chatbot script, your team will gain an "extra coworker" who is able to qualify leads and forward the most relevant leads to a consultant or salesperson, with the option to have a live chat or book a meeting in the person's calendar. Chatbots can answer your website visitors' frequently asked questions, thus saving you a lot of time. Chatbots are also very useful in B2B marketing.
Vidyard
Vidyard is a platform for the strategic use of videos in marketing, sales and customer service. With Vidyard, you can track how successful your videos are. Do the users play them? How long do they watch the videos? By integrating Vidyard and HubSpot, you can trigger various actions based on this information, such as sending automated emails or displaying personalized content on your website or landing pages.
Actuado is the only HubSpot Platinum Solutions Partner in Slovenia, and the only Slovenian agency also holding the
Drift Agency Partner and Vidyard Partner titles.
Zoom or GoToWebinar
We live in times of video conferences and webinars. For several years now, Actuado has been conducting webinars for clients using the Zoom and GoToWebinar platforms. The latter is slightly more expensive but offers more analytics options. Through integration with HubSpot, it provides an excellent user experience and lets you track webinar registrations directly in HubSpot's CRM.
Slack
Team coordination is crucial, so it's good to have an internal communication tool. Actuado swears by Slack, which you can also integrate with HubSpot. No more HubSpot email notifications about webinar and newsletter registrations or e-book downloads – you can monitor all these activities in a dedicated Slack channel.
Canva
You've probably heard of this popular image processing tool, which is very easy to use, even as a mobile application. In addition to Zoom backgrounds, Canva offers many photos and template designs for various occasions: LinkedIn posts, Facebook cover images, Instagram stories and much more. Canva also integrates with HubSpot.
Stripe
Stripe is a payment processing tool that is added to HubSpot ecosystem mainly by companies that want to have a complete overview of sales. By connecting Stripe to HubSpot, you further supplement the information about your contacts in your CRM.
SEO – Search Engine Optimization
Due to changes in the algorithms used by search engines, we have started to use pillar pages and topic clusters for website optimization.
Pillar pages broadly cover a specific topic that is relevant to both our buyer persona and our company. They include text, images, infographics, video and sometimes audio content, as well as internal and external links to other relevant content. Pillar pages are usually quite long and can be downloaded in the form of an e-book or a PDF file so that the user can save it to his or her computer. The content of the pillar pages must be of high quality and regularly updated.
Topic clusters consist of a pillar page and individual pieces of content (blog posts, landing pages) that relate to the pillar page topic. To create topic clusters, ask yourself which sub-topics that relate to the core topic of the pillar page you would like to explain in more detail. Then create blog posts, videos, and other types of content that answer typical questions of the persona for whom the core topic is intended. Always link from your sub-topic page to your pillar page to improve your ranking in search engine results.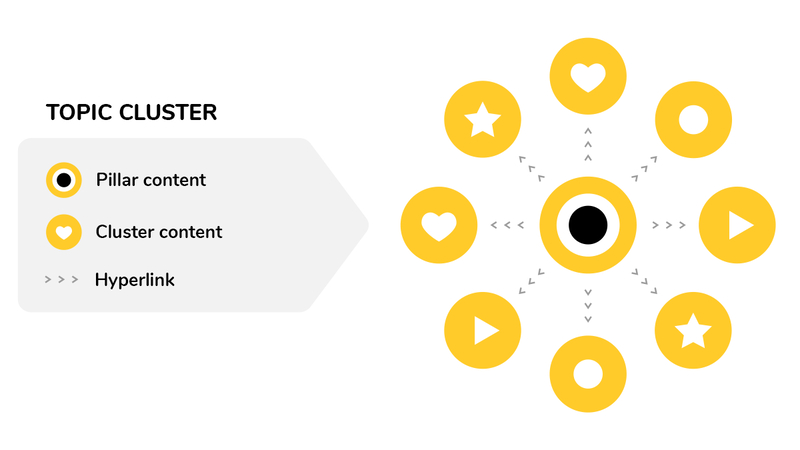 Segmentation and Personalisation
Modern marketing and sales tools such as HubSpot allow us to segment users not only by the information they have given us (e.g. through a form or talking to a chatbot), but also by their behaviour on our website – we can track user activity on our site if they have given us permission to do so. We can group together all users with certain characteristics, such as when they downloaded a particular guide, attended a webinar, read articles on a particular topic, or opened our newsletters.
Based on the data collected in HubSpot's CRM, we can show dynamic content to users – this means that even though the website address is the same for two users from different segments, one will see different content than the other (different copy or portions of copy, different CTAs, videos, etc.). It makes sense to personalize the content and, for example, show users who are already our customers slightly different content than those who are anonymous users.
Lead Generation and Lead Nurturing
One of the main objectives of inbound marketing is generating and nurturing leads, and thus attempt to convert them into customers. It's crucial that we first know our personas and their buyer's journey well, and then create useful and relevant content to attract them to our website. Once we get their email address in exchange for webinars, guides, quizzes etc., we can continue to communicate with them in a targeted and personalized way, providing them with the right content at the right time, thus increasing the chances of conversion.
Inbound Marketing and Inbound Sales Go Hand in Hand
We have already mentioned that inbound marketing is long-distance running. It's important that as many people as possible in the company understand its philosophy and follow it. Inbound marketing will only be truly successful if it's aligned with inbound sales.
We hosted a webinar with HubSpot's Sinead Goggin, in which she emphasised: "Sales and marketing both play a crucial role in any business, so of course it makes sense to have everyone on the same page and work together." However, aligning sales and marketing is often a more difficult task than it seems. The biggest challenge is the lack of communication, which can lead to tension and even resentment between the two departments. Instead of discussing how to attract and delight customers, employees waste time dealing with poor relationships.
Sales and marketing should work together throughout the entire buyer's journey and define leads together. Marketers should conduct consumer research, and the salespeople should talk directly to the customers to find out what pain points they have.
Marketers need to know how many leads are needed to close a deal and when a lead is ready to be handed over to the sales team. Marketers should also provide the sales team with the right content for the closing stage of the buyer's journey and track what happens to a lead after it is contacted by a salesperson. The sales team, on the other hand, has to lead customers into as many purchases as possible.